ISUD 10 held in Tokyo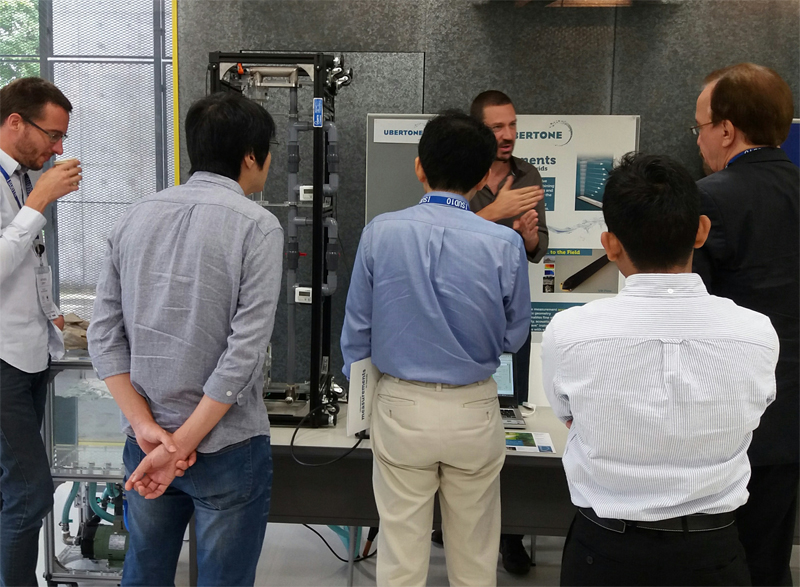 The ISUD - International Symposium on Ultrasonic Doppler Method for Fluid Mechanics and Fluid Engineering - is the biennial event bringing together users and experts in the field of high resolution velocity profile measurement by use of ultrasound.
After having been organized by Ubertone in Strasbourg in 2014, the ISUD took place at the Tokyo Institute of Technology, Tokyo, Japan from September 28-30, 2016.
This 10th edition, very well organized by Prof. Kikura and his team, gathered 62 participants coming from 10 countries. The number of participating researchers keeps increasing, showing accretion of interest on ultrasonic technology from all over the world.
This year again many interesting presentations have been made, among which five using Ubertone profilers:
A study on flow and turbulence measurements in sewer showing the capabilities of the UB-Flow to describe sewer flow hydrodynamics under different field conditions: "Instantaneous ultrasonic velocity profiling using in-situ sensor in real sewer flow" by Martin JAEGER, Frank BLUMENSAAT, Vojtěch BAREŠ, Stéphane FISCHER
The first results of an aquatic drone for sewer inspection embedding an UB-Flow from Ubertone presented in: "3D interpolation in a velocity field in sewers" by Sebastian CEDILLO, Mathieu LEPOT, Stéphane FISCHER, François H.L.R. CLEMENS. More info about the FOULC project.
Recent researches about acoustic turbidity focusing on attenuation: "Suspended sediment characterization by multifrequency acoustics" by Philippe SCHMITT, Anne PALLARÈS, Stéphane FISCHER, Marcus Vinicius de ASSIS
Results from a study on an artificial stomach put forward in: "Study of the rheological properties of the retropulsive jet build by the antral contraction wave in a simplified artificial stomach" by Damien DUFOUR, Franz X. TANNER, Kathleen FEIGL, Yasushi TAKEDA, Stéphane FISCHER, Erich J. WINDHAB. At the end of the ISUD, Damien Dufour won the Ubertone Student Award for his work, article and presentation.
The first results of a new profiling system presented in "A miniature UVP hardware dedicated to process and environmental monitoring" by Marie BURCKBUCHLER and Stéphane FISCHER
We were pleased to meet our partners, customers and future users at Ubertone's desk inside the exhibition area of the ISUD. We demonstrated our UB-Lab velocity profiler measuring in clear water with a transducer clamped on a plastic pipe, kindly borrowed from Prof. Kikura's Lab. Visitors could evaluate the quality of the measurements as well as the ergonomic user interface.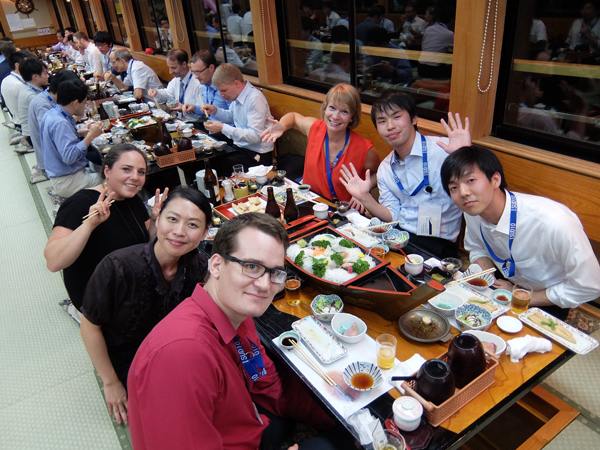 Beside the symposium, we also enjoyed an exciting cruise and dinner in Tokyo's bay.
More details can be found on Titech's website.
See you at the Physikalisch-Technische Bundesanstalt in Berlin, Germany in 2018 for the 11th edition !