UVP revolution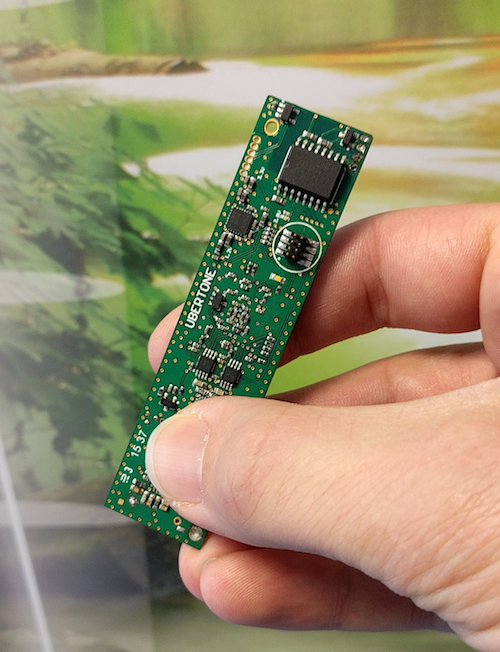 During the 10th ISUD (International Symposium on Ultrasonic Doppler Methods) we unveiled our new miniature hardware.
With this new development, we push further the technological limits of UVP (Ultrasonic Velocity Profiler) to reach a lighter and smaller board. Huge efforts have been made to concentrate all our technology in a 14 grams electronic board that consumes less than 1W and powers up in half a second. It is equipped with two transmit/receive channels allowing to measure up to 100 cells in a profile. The device communicates through the Modbus protocol over RS485. Accuracy and sensitivity is comparable with our current devices and the main features are kept: automatic gain control, static echo filter, phase coding, blind zone compensation, signal-to-noise ratio estimation. The specifications of this new UVP hardware devised by Ubertone break new ground for a wide range of applications.
This new development has been welcomed with great enthusiasm by the ISUD participants. Especially, Prof. Takeda echoes Stéphane Fischer's keynote by explaining in his talk that Ubertone's technology will bring UVP in new fields and lead to innovative applications.
Our new mini-UVP hardware is now proposed to the first customers, so if you have a project where size, weight or consumption is critical, do not hesitate to contact us .
Download the extended abstract A miniature UVP hardware dedicated to process and environmental monitoring.
The development of this new hardware has been funded by the Region Alsace.